Outcomes / Downloads
Intellectual outputs
IO1: Holistic framework of socio-medical models for parents support
IO2: ECVET based MedVET support training curriculum
IO3: MedVET support Training programme and Assessment mechanism
IO4: Peer support portal
IO5: Mobile learning app
IO6: Interactive good practice guide
IO1: Holistic framework of socio-medical models for parents support
To analyse qualitative and quantitative data of the national policies and practices related to social and medical support of parents with newborns with disabilities and complex needs
To address all possible changes in policy and service provision in the field of parental support at the level of maternity ward
To describe the holistic approaches and the key elements used in the medical-social models in the partners countries
Report on holistic framework:
IO2:ECVET based MedVET support training curriculum
describing the learning content of the MedVET training support programme
blended learning approach and interactive methods such as ppts, videos, live books, images and graphics
theoretical part, practical guidance and supporting techniques as well as practical examples
ECVET principles and firmly established teaching methods and practices for evidence based learning
Bloom's taxonomy as a framework for categorizing educational and learning goals and objectives
IO3: MedVET support Training programme and Assessment mechanism
evaluation of the acquired knowledge, skills and competencies
case based exam where the trainees should suggest the most appropriate and relevant alternative to the preassigned open case
face-to-face interview with a trainer and is supposed to be implemented after the completion of the training course by the respective trainee
embedding of the training programme in the existing educational programmes of the medical universities and colleges while some of the modules can be integrated in the so called parents' schools classes
IO4: Peer support portal
to bring together the expertise and the experience of the gynaecologists, neonatologist, midwifes, nurses and carers and thus to establish virtual informal professional network for peer support and interaction among this medical professionals
serve as a virtual platform for exchange of good and bad practices, publishing of latest researches/articles and scientific reports in the field
the participants may also share news, ideas and achievements on a different topics such as: early support of families with newborns with disabilities and complex needs, alternative methods for early stimulation neonatal care, medical professionals burnout prevention, examples for boosting opportunities for neurodevelopment, for families to experience attachment, and to work through psychological issues which are impairing families relationship etc.
IO5: Mobile learning app
for Android and iOS
wizard style training approach with full access to virtual community
convenient and less time consuming way, without being necessary to leave their work place and thus to distract their work schedule
newest trends in presenting the learning content, especially with regards to the communication, interaction and support with parents of babies with congenital disabilities


IO6: Interactive good practice guide
to collect a selected set of case studies driven by the real life experience of parents of babies with congenital disabilities or premature babies, as well as the medical professionals who despite the luck of specialised training have managed to find their own way to address the challenges in communication, interaction and support of such parents
the "Living Library methodology" which is truly 'new' and inventive, something that attracts widespread attention and makes genuine impact
minimum 2 cases/ "live" books which will be video taped and will be included in the Interactive good practice guide, taking into considerations all ethical standards
For better understanding our LiveBooks, please use the YouTube player's functionality – subtitles.
Please switch on the subtitles by clicking on the button Subtitles (CC) (see Figure 1).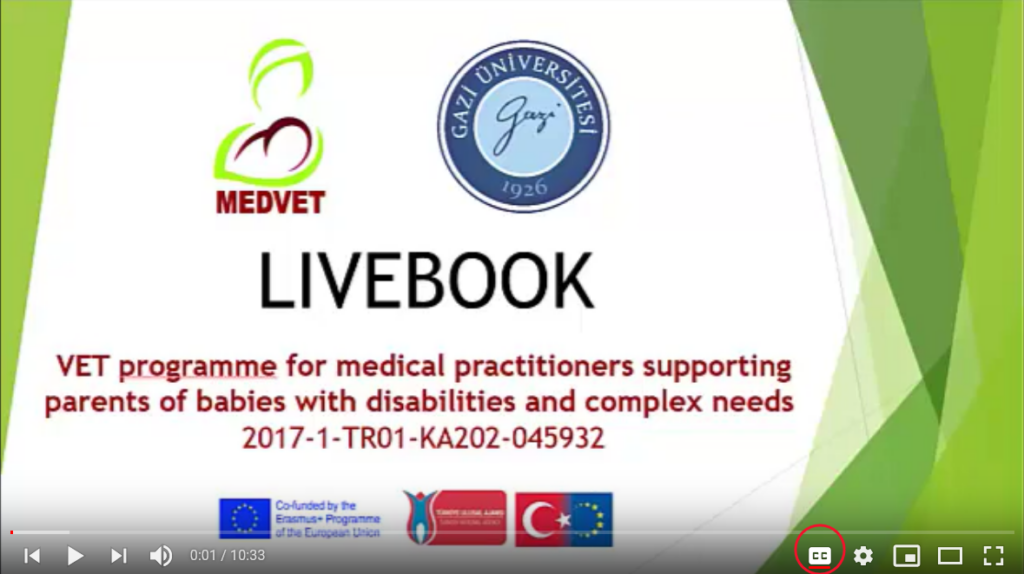 To choose the subtitles in your language, please use the Settings button (see Figure 2).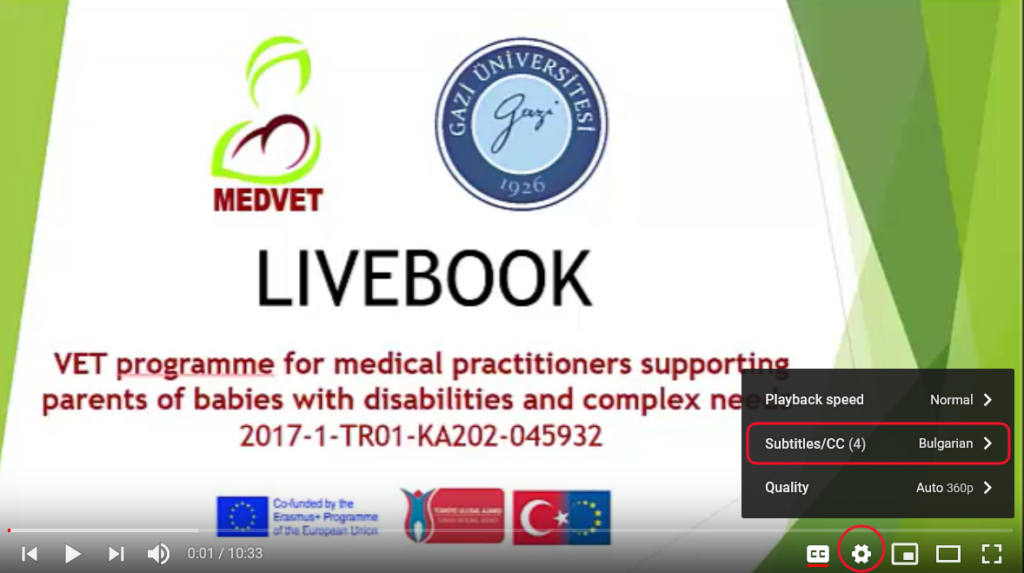 Download Our LiveBooks as PDF:
Our MedVET book (English, pdf) – download